Welcome to my Internet Wealth Biz Review. I am so glad you are doing your due diligence before spending your hard earned money on yet another make money product. There are so many make money online products on the internet. It is hard to know what is legit and what's not. Especially if you are new to how making money online works. This is why I write reviews. I want you to be able to make an educated buying decision.
Now let's see if you can create wealth on the internet with Internet Wealth Biz.
But wait… if you are tired of B.S systems/products and really want to learn how to make money online, check out my #1 recommendation.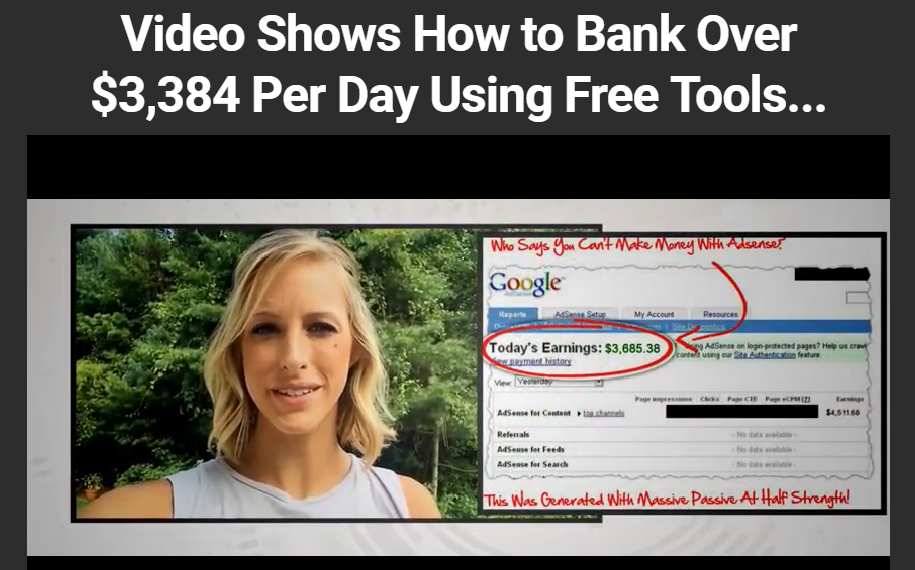 Name: Internet Wealth Biz
Website: InternetWealth.Biz
Price: $47  + upsells
Owner: Brian Thompson (Questionable)
What is The Internet Wealth Biz?
The Internet Wealth Biz was created by someone named Brian Thompson. Brian claims that although he has kept his name hidden in the past, he has generated million through internet marketing. All you have to do is sign up with The Internet Wealth Biz program and within 20 minutes you will be able to duplicate the way he makes money by promoting different affiliate products. Brian claims you can earn up to $3,384 a day working a mere 10 minutes a day.
There are a few red flags waving hard in the wind about this program. On the sales video, they talk about how much money they made using this system. Brian claims affiliate marketing is the business model of the Internet Wealth Biz. But if you look at the screenshot above you will see earnings on a Google Adsense account. Google Adsense has nothing to do with affiliate marketing. So that's one discrepancy.
And who is Brian Thompson anyway? I have not heard of him. And why has he kept himself hidden?
The sales video is full of hyped up claims of income. They tell you how much money you can make but they don't tell you exactly how it's done. It is something to get you excited and think if they can make money so can I.
And they waste no time asking for your email. You have to be cautious about giving out your information because your inbox will be spammed with other make money offers. Your information could be sold over and over again to people who create these types of products. You are a prime candidate. You are looking to make money online. These are the people they are targeting.
Fake Testimonies
Below is a screenshot of this guy claiming to have made money with Internet Wealth Biz. It is very easy to pay someone to tell lies about a product. It is happening all the time on the internet especially with "make money" products. All you have to do is go to Fiverr.com, pay $5, and those people with say whatever you want them to say. I am not sure how they sleep at night.
This shows you that you have to be aware of these false testimonies because they are everywhere about all sorts of products. Take a look at the video below to see how widespread false video testimonies are. And how companies are using these people to sell products and increase business.
This product reminds me of other products I have reviewed in the past. Such as:
Is Internet Wealth Biz a Scam?
The sales video does not tell you exactly how you will make money.  From my experience, $47 is just a drop in the bucket. You may get a small amount of information but not enough to make the money they claim you will make. So this is where the upsells come into play. I will leave it to you to judge whether the Internet Wealth Biz is a scam or not.
When they say a product can make you $1000's, in a small amount of time, with very little work on your part, don't believe it. That is not how making money on the internet works.
Many make money online products claim you can make money fast with them.  There is more to it than you realize. Once you pay that small amount to get started with them, you will find yourself spending more money before you make a penny.
These types of programs are more for the creators than they are for you. If they don't profit from your purchase, they could profit from selling your information. It's a win-win situation for the creators.
---
Conclusion
If you want to learn how to build a successful online business check out my #1 recommendation. It is an online educational platform that teaches you how to create and grow an online business. It is not a done-for-you system or a get rich quick scheme.
It teaches you how to build a business through affiliate marketing. Everything you need is under one roof.  It is free to try. You will have access to many up-to-date pieces of training and help from a large community of like-minded people.
Below is a video about affiliate marketing.

You can build a business around anything you want and make a full-time income from it. Many people are making 4 figure incomes using affiliate marketing and you can too. It takes is the right training, time, and consistency.
How would you like to have a successful selling hair online? Or maybe you are a pit bull lover. There are many pit bull lovers buying for their fur babies on the internet. Or maybe you are into sewing like I am. The opportunity to make money in the sewing niche is great. You can earn affiliate commissions on sewing books, fabric, machines, notions, etc.
You can have an online business today. It starts with a free website.
No matter what your interest is you can make money as an affiliate marketer. The internet is wide open with opportunities for people like you and me.
I wish you success in whatever you do online.
Feel free to post any comments/questions below and share.
Let's Make Money Online!