Do you want to know if you can really make $1,000 a day using Income League? Welcome to this review. I congratulate you on doing your research. There are so many money-making programs online it's hard to know which ones are real and which ones are scams, especially to someone who is new to making money online.
This review will tell you what Income League is all about and if you should spend your time and money on it.
Name: Income League
Price: $47 (Frontend) + Upsells
Strategy: Affiliate marketing
Owners: Matthew Neer and Jamie Lewis
Income league claims to be an easy system which shows you how to easily make $1,000 a day online
The sales video begins with Matthew Neer and Jamie Lewis talking about how easy it is to make a $1,000 or more a day online. Matthew, a successful internet marketer, states he makes this money from just posting "tiny little ads" all over the internet free of charge.
Matthew does not tell you upfront where to post these "tiny little ads".
Below is a picture of how much money you can make with this revolutionary system and how fast you can make it.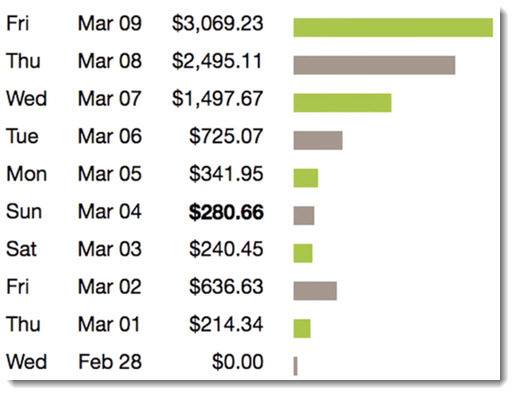 If you do the math that amounts to over $9000 in 9 days. As a beginner to internet marketing, this amount of income is completely unrealistic.
Its been my experience not to believe the income hype. It is just to sucker people into buying the product.
How does Income league work?
Income League does not have a secret formula to make money online. There are many people making money with this business model which is affiliate marketing. Affiliate marketers promote other people products and earn commissions when the products are sold.
This system is all about email marketing to promote affiliate products.
This is how it's done:
You create a landing page, a one page website, basicly. The purpose of a landing page is to collect email addresses to build a list of potential customers.
When someone enters their email address the system sends them products you recommend using your affiliate link.
If a sale is made you earn a commision.
Emails are sent periodically about different products in the make money online niche.
Advertising through email is called email marketing. Usually to email market effectively you need an autoresponder which can cost $19 monthly.
Income League gives you step by step instructions to set the system up in a couple of hours. After that the ads are automated.
He states if the ads don't generate enough sales just send more ads.
No control
Income League has everything done for you except traffic. It gives you the templates and squeeze pages similar to Income League sales page, which you have no control over.  What happens if it shuts down? What can you do about it? Nothing. Whatever you might have worked for is gone. Poof.
There are many automatic make money systems online. They come and go so fast it's hard to keep up with them.
There is nothing like having your own business. It will take some time to build,  but at least, in the long run, you don't have to worry about it disappearing.
Scam or Not?
Some people would call Income League a scam. I would not say it is a scam. But I don't like how they exaggerate the income you could make. You can make money using email marketing. And with this system, you would probably promote other ClickBank products as well as this one.
There are many Clickbank products which claim you can make $1,000's in a short amount of time with little work such as Five Minute Profit Site and CB Cash Code.
How many people do you think would purchase products with those hard to believe claims?
Because it is a Clickbank product you could get your money refunded.
This program teaches you something about email marketing but it is not enough to sustain a full-time income.
It has too many upsells. I like for a training system to have everything you need for one price. If the program is so good why have all of these upsells?
Who's Making $1,0000's?
From my experience, this is how it works. Neer, like other internet marketers, has an email list. He promotes other peoples affiliate products to his email list and makes commissions when someone buys.
He is also a creator. He sells products online which other people promote. He has a list of buyer and sends them more products to buy through email.
I am sure Neer has over 75,000 emails to promote to. They say in internet marketing, "The money is in the list."
I can see Neer making $1000 and more a day. But not a newbie to email marketing.
 Build Relationships
In order to make money with email marketing, you have to build a relationship with your audience. People are not just going to going to purchase hyped up products with outrageous claims.
You have to give your email list value not bombard them with products in the make money online niche. You need to get them to trust you. After you gain trust then you can introduce reputable products to them in emails.
If you don't promote trustworthy products you can expect people to ask for refunds. That is not a good look for you as an internet marketer.
Income League does not teach you how to build relationships.
Email marketing is a viable way of doing business but there is a successful way to do it.
A Complete Training Program
If you still want to join Income League you will need more training then they supply to succeed. I suggest an online training program that will teach you all about internet marketing. There is a way to get free traffic to your sales page. You won't have to worry about paying for traffic.
You need traffic, no matter what product you are promoting. Traffic equals sales and sales means commissions for you.
Check out my #1 Recommendation to make money online.
If you have any questions/comments please post it below.
Let's make money online.