Welcome to my review of Fixed Monthly Income. I am so glad you are here to see if this money making opportunity is for you. There are many sites online that take advantage of people who are looking to make extra money. Let's see if this is one of them.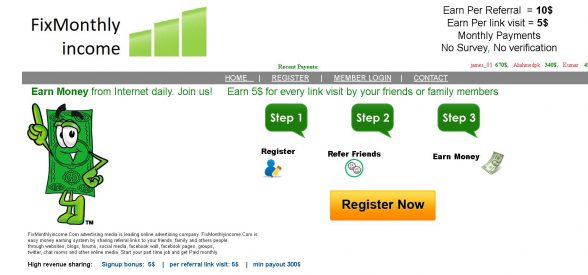 Name: Fixed Monthly Income
Website: http//fixmonthlyincome.com
Owner: unkown
Price: Free
What is Fixed Monthy Income?
Fix Monthly Income site leads you to believe it is one of the leading advertising companies online. Advertisers pay them for advertising and in turn, Fixed Monthly Income pays you to send visitors to their site.
They claim you can make money very easily by sharing your affiliate link with other people. You can use methods like social media, family, and friends. When someone clicks your link and go to the site you earn $5. If they sign up, you earn $10.
Sounds so easy and too good to be true, right?
You also earn $10 when you sign up for your own free account. But if don't log into your account for 30 days you lose whatever money you earned. That's not good.
In order to get paid your earnings have to reach $300. Doesn't that sound high to you? That adds up to a lot of referrals (traffic) sent to the website.
They claim you can get paid through PayPal, Moneygram or check. But after you sign up if you earn the $300, which by the way, is about 60 referrals, the only option you have is to get paid by check.
---
This is the real deal
Even thou they claim companies are paying them to advertise, there are no advertisements to see. So either the companies are paying for nothing, or Fixed Monthly Income is not very truthful.
I have looked all around and do not see any advertisements. So companies would be foolish to pay for advertisements don't appear. But with further investigation, I saw where they have a captcha test. In order to get paid you have to do the captcha test. That is where you will see an endless amount of advertisement.
All these advertisements want is your information. Name, address phone number and email. They offer things you don't want. Every time you think you're done… another advert appears.
After you did everything you are supposed to do you still won't get paid. The only option they give you is paid by check. So you wait for it. And continue to wait. When it doesn't come they will tell you to wait longer. Snail mail can be slow. You could be waiting 8-12 weeks before they acknowledge it could be lost. Good luck waiting for payment with a reissued check.
---
Who Is Really Benefiting?
It seems like the unknown creator of this site could be making money collecting and selling your contact information.
There are people who buy money-making opportunity lists. If anyone signs up with Fix Monthly Income it is obvious they are looking to make money online. The company can sell your information over and over again to other people who want to send you emails about making money online.
So now you will have all these so-called opportunities flooding your email inbox.
They are counting on you to use your referral link to send people to them and they sign up with their emails and passwords.
Sometimes people use the same passwords for their Paypal accounts. So if you did sign up and are using the same password as you did with your Paypal account. Go change your PayPal password immediately. You don't want money taken from your account.
---
Learn How to Spot a Scam 
Since there are so many scammers online trying to take your hard earned money you need to know how to spot them.
These are a few questions you should ask before you join any money making program.
How much money will they pay you? Does it seem too good to be true for the type of work you will do?
How is the company paid? Like I have said, I don't see any adverts with this program.
Who is the owner of the company? Why is it a mystery? It reminds me of 7Dollar Click and Email Sending Jobs. These are other programs to stay away from.
Do they support you can actually contact?
---
Is Fix Monthly Income a Scam?
If the shoe fits, wear it. I believe it is a scam. The only thing it does efficiently is getting a hold of your personal information. The owner can take that information and profit from it.
Even thou you will see earning adding up as you share your referral link, you will have a hard time getting paid.
Now let's touch on the limit withdrawal which is $300. So now you have worked sent all these people to them. The owner has used you and others for their personal gain and insults you more by not paying you.
They result to the blame game. Blame it on the mail. Wait weeks longer for your check. Still did not come? We will reissue another check and so on.
---
Don't Waste Your Time
I don't want to see you get ripped off. Don't waste your time with this money making nonsense. There is a better way to make money online. One of the most successful ways is with affiliate marketing.
You don't want to sign up with a program does not have the right intentions like Fix Monthly Income.
You need to learn how to do affiliate marketing the right way so you can earn a sustainable income and make a full-time income in the future.
There is a platform I suggest which taught me all I know about how to be successful online. It is free to try. And has a community of like-minded people who are making money online also.
Check out my #1 Recommendation to see how we do it.
If you have had any experience with this or any other money making programs post it below.
Comments are welcomed and encouraged on this blog,
But they should be relevant to the post topic and useful to the readers.
Let's Make Money Online.