Welcome to my review. Congratulations on doing your research before you spend your hard earned money. Many people are looking to make extra money online. But as you can see, this program suggests you can make more than extra money online. Sounds too good to be true, correct? Let's take a look.
Name: Email Sending Jobs
Website: emailsendingjobs.biz
Price: $75
Owner: Unknown
What Is Email Sending Jobs All About?
Email Sending Jobs is an online money making program that brings ordinary people you and me together with companies that are willing to pay for sending emails. They say you can make $25 or more for every email sent from the very beginning.
It cost $75 to become a member. After you sign up you are sent a list to where you can send and receive emails. You have a choice of what companies you want to work for and the type of products. After you sign up with various companies you are able to start making money immediately which is paid monthly by check or Paypal.
They have this calculator to show what you can possibly earn using this system.

I don't see how that much money could be made in that short amount of time with the Email Sending Jobs system.
There are a lot of opportunities to make money online but not that quick and easy.
There are websites that pay to send emails and they don't pay $25 per email to do it. That is because there are too many people willing to do it for pennies all over the world.
With using the email processing system you are required to read an email that's sent to you and process it with the instructions given to you, then forward the email. The emails are pre-written.
You will receive emails every day, read them, then process them. They don't give you an example of what the emails contain. And your email account could be closed if you are spamming people.
---
Pros
I don't see any pros to this program. But I see plenty of red flags. The only benefit this program gives is to the unknown owner.
 Red Flags
As I researched this opportunity red flags popped up.
Why is there no mention of the owner of the program?  I have a problem sending $75 to an unknown person. And there is a no money back policy. Are they for real?
You have no idea why you are really paying for. They give nothing but dreams of making so much money a day.
I never paid money to work a job. A job is supposed to pay you for your time and services.
If they don't just take your money and run, they probably have you spamming people's emails.
There is plenty email automated software out there. Why pay people $25 per email sent when a software can do it for a lot less? Makes no sense to me.
---
Money is in the List
There is a term used on the internet which is "the money is in the list." There are only two ways I know of to make money sending emails.
Working on a job for a company as an administrative worker.
Or having your own online business and collecting email addresses from visitors who opt-in.
I choose the latter option. This why I do what I do. I don't like trading my time for money. That way you make limited money because there are just so many hours in a day.
When you build your own email list you are able to market to the list and make money from it. People opt-in because they are interested in is what you have to say. So they are open to your recommendations and your emails are not considered as spam.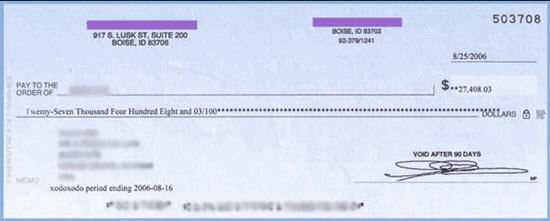 This is supposed to be proof of payment. Are they serious? Let's look at this for a second. Who issued the check? Check the date? 2006. Are you kidding me? And who's to say the check was payment for sending email? Get real! They couldn't come up with a better income proof than that?
---
Not Worth it
I am sorry if I burst your bubble. But I am giving you the low down so you don't just give your hard earn money away. I know how many hours it takes me to earn $75 on a job.
It takes time, dedication and knowledge to build an online business. But when it's done right it will generate a full-time income over time.
With your own business, you don't have to worry about it shutting down.
Most of these companies that claim you can make a lot of money quickly don't stick around. They take your money and the next thing you know their site is gone. You have no way of knowing who they are because their identities are hidden on the internet.
---
It Is Best To Have Your Own
If you are still looking to make money online I suggest you get the training I use. It's not a get rich quick scheme. It's an online training platform which teaches you how to start and maintain a successful online business. Step by step. The training teaches you about email marketing and how to use it effectively.
In order to make money online, you have to help people. People are searching for solutions to problems all the time on the internet. Your business could be the go-to site for people finding the answers. That is when you can monetize from the traffic with products you are passionate about.
People can opt-in to your mailing list. This is when you can promote products to a target market.
There are too many scams on the internet just waiting for people who an ignorant to how it works to make money online. They promise to do most of the work with their systems. Your part is simple, quick and easy. And when its all said and done you will make hundreds of dollars in a short amount of time.
It's all a dream they are selling. The dream of making money for doing next to nothing. I have learned you nothing for nothing.
Check you're ready to start your own business. And learn how to make money the right way to check out my #1 Recommendation.
If you have had any experience with this program or any other programs post it below.
Let's Make Money Online.