Name: DS Domination
Website: http://dsdomination.com/
Price: $9.95/month for Affiliate, $19.95/month for Pro Level, $99/month for Elite Level, plus additional one-time costs
Founders: Hitesh Juneja & Kevin Hokoana
Welcome to my review on DS Domination. I congratulate you on doing your homework before you jump into anything. DS Domination was the buzz a few years ago. But the buzz has faded … find out why.
What is DS Domination?
The DS stands for Drop Shipping. This is a program that teaches people how to make money online using dropshipping.
What is drop shipping?
Drop shipping is done all the time with success. You purchase the discounted item and sell them to consumers. You don't have to worry about stocking the products. The company handles the billing, customer service, returns etc. The keyword is "discounted" items. Not retail.
How it DS Domination Works?
Here the just of it. You research a product on Amazon to see how much it costs. Let's say it cost $12. And you go to eBay and find the same item for $25. So now you put that item up for sale on eBay for maybe $23. You copy all the information to your eBay listing.  If and when the item sells you receive the money from the buyer plus shipping and handle fees. You, in turn, buy that item from Amazon. Amazon will ship the item to the buyer as if it was shipped directly from you. But from my research Amazon ships the item in an Amazon box. And you end up with $11 profit.
This is what DS Domination teaches you.
The 4 level of drop shipping courses are

:
DS Domination Pro – $19.95/mth
DS Domination Elite – $99.00/mth
DS Domination Unleashed – $249.99 one time
DS Domination Monopoly  – $499.00 one time
Secret Affiliate training – $199 one time
If you want to be a part of the affiliate program you have to pay $9/mth.
DS Domination Pro- In this course Roger Langille takes you through the process of creating an account on Ebay.com and Amazon.com. He explains what dropping shipping is all about.
DS Domination Pro includes 19 modules and each module has a 15-20 minute video.
Each upgrade gives you more information on tools and supplies to get products from.
---
Does this really work?
These days people are smart. They do their research to see where they can get the lowest price. I, personally, check both Amazon and eBay to see what the lowest price is. Maybe a lazy person will go to one source. But how often is that?
I don't see anyone making a good money with that method of doing business.
Plus, everyone who learns from DS Domination has the same knowledge and doing the same thing as you. And maybe with the same products. Each with a lower price. That's a lot of competition.
Don't forget eBay charges for your listing. Listing fees take a percentage of your profit.
Now if the item is shipped in an Amazon box. I would feel some kind of way about it as a customer. I would look up the item on Amazon and if I saw the item was cheaper than I paid on eBay, I would be upset.
DS Domination – The MLM side of it
If you don't want to do drop shipping you can make commisions referring people to DS Domination. In order to make commissions from their programs, you would have to purchase all of them. Otherwise, if you only purchase one program you can only get a commission from the program you purchased.
Let's say you referred someone who purchased all the levels in the program. And you only purchased only one. You will not receive a commission from all the levels they purchased, only the one you have.
I don't think that's fair. The real winner is here are the people who put this together. The people at the top.
Below is the earning potential when the person you referred buys the training.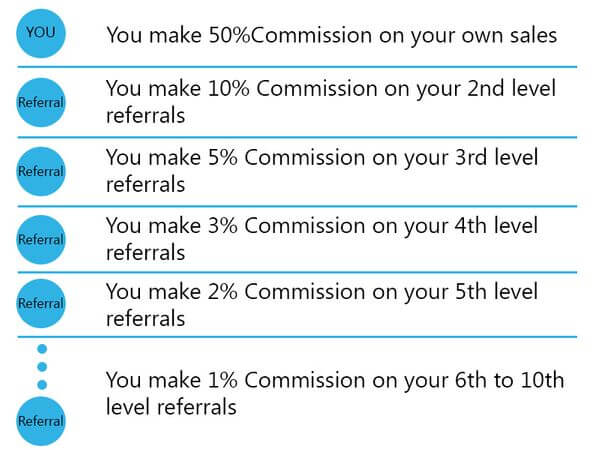 Below is a video explaining DS Domination's Compensation Plan
If you want to learn the most successful way of doing drop shipping I suggest you go sign up with Shopify. And read  "Ultimate Guide to Dropshipping by Shopify".
---
Things I don't like about DS Domination
You have to pay to promote their products. With a true affiliate program, you don't have to buy anything.
This DS Domination is not affiliate marketing it is Multilevel Marketing.
Too many upsell
No refund policy.
You get commissions from products you have purchased for yourself.
Most people make money selling the program to people like you not with dropshipping.
DS Domination's Income Disclaimer states that the average annual income for affiliates is around $500-$2,000. Do the math. How much is that monthly? Not much.
Teaching you to buy retail from Amazon to sell on eBay for a profit is not the best way to do dropshipping. You can not use an image or description of a product from Amazon and put it on another website. That is copy write infringement. It is against Amazon's policies.
Amazon has warned people about buying on Amazon Prime and selling on eBay. It can put your account in jeopardy.
---
Alternative Way to Make Money Online
The way I make money is through affiliate marketing. I select the products I want to promote. It doesn't cost anything to be an affiliate. I have my own unique links to promote on my blog. When someone clicks the link and purchase I get a commission. I don't worry about inventory or customer service.
I learned how to do this and a lot more through an online training source. It is free to join. You can give it a test drive. You know exactly what you are getting. Plus if you feel the training is not for you maybe you know people you can refer to it. If they join through your affiliate link you earn a commission.
Affiliate marketing may not make money as fast as drop shipping. And that really depends on what you are selling. But I know it is possible to put a listing on eBay one day and get a sale a few days later. I have done it.
But affiliate marketing has more staying power. You are able to make a full-time income in time.
If you have had any experience with DS Domination or dropshipping post your comments. 
Let's make money online.